Eleganza 8wt Alison Glass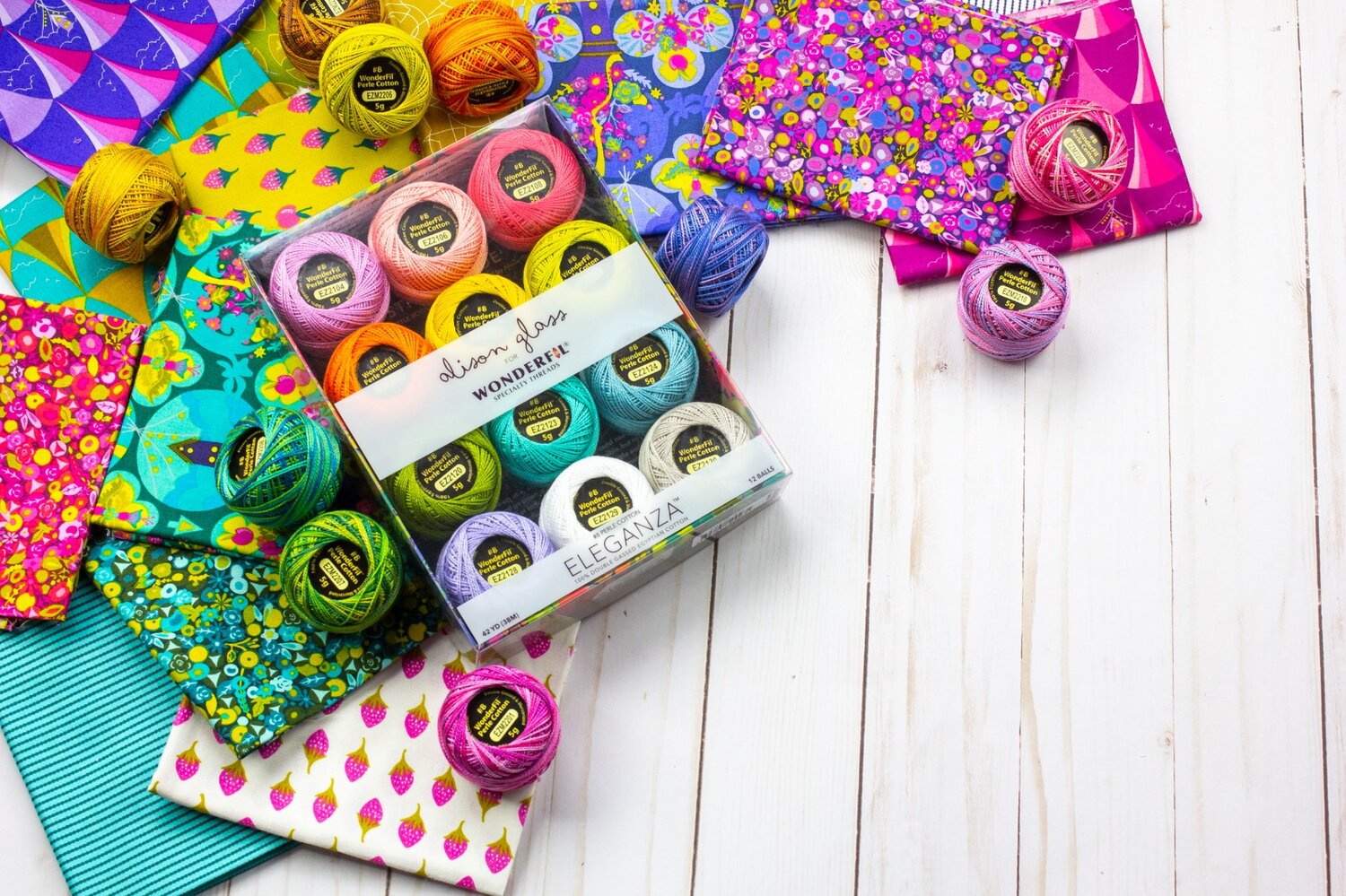 Introducing this stunning new collection by Alison Glass for WonderFil® threads.
Your favourite #8 perle cotton Eleganza™ thread now comes in 48 brand new colors designed by Alison Glass to match her fabric collections. It's truly a match made in heaven.
But this thread isn't just pretty to look at. Eleganza™ is a 100% long staple Egyptian perle cotton thread that has been double gassed, resulting in a beautifully smooth and lustrous finish that glides through all types of fabric and fibres.
It also has a strong, tight twist and doesn't like to unravel. That means you'll be able to create tight, firm stitches that look and feel both gorgeous and professional.
This is a #8 size thread, which is ideal for all kinds of hand embellishment, big stitch hand quilting, visible mending, sashiko, and even couching and bobbin work on a sewing machine. It's perfect for both beginner and experienced sewists. You can really showcase texture and color with this thread like no other.

We recommend a milliners size 1, long darner size 1, or a chenille size 24 hand sewing needle with this thread. That will ensure you don't create too large of a hole in your fabric, nor will you end up with too small of a hole for the thread to comfortably fit through.
These threads come in four pack varieties: Stars, Sun,  Flora, and Fauna. Each pack includes 12 perle cotton balls each, with Stars containing 12 stunning variegated colors, and the other three with a beautiful variety of solid shades. With colors this delectable, we truly couldn't resist all four packs.
You can also purchase the colours that you're head over heels with as an individual 5g ball! This comes in handy if you have one of the packs, but only want one or two colours from another. You can fully customize your own personal Alison Glass Eleganza Thread collection by ordering your favourite individual 5g balls.